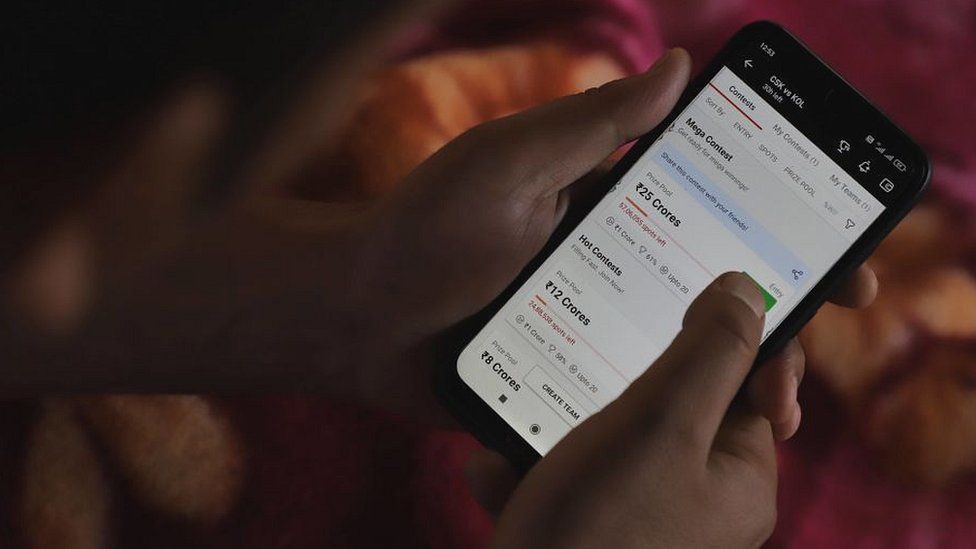 By Arunoday Mukharji BBC News, Delhi
Image source, Getty Images
Image caption,
Millions of Indians are drawn in by games that involve money-based transactions
Months after Faisal Maqbool stopped playing online games on his smartphone, he still struggles with temptation.
Last year, the 31-year-old - a project coordinator with a construction firm - lost close to 400,000 rupees ($5,000; £4,010) in five months while playing an online card game. These are multi-player games which deal you a set of cards and get you to place a wager.
"You start with 500 or 1,000 rupees. Then greed overpowers you and you bet more and more till you get sucked in. You keep playing because you want to win back the money you lost. But you keep losing," Mr Maqbool says.
There was a time when he would lose nearly 70% of his $500 monthly salary to these online games, forcing him to borrow money from friends.
Mr Maqbool is among millions of Indians who are drawn in by what is called Real Money Games (RMGs) in which the user plays for a wager.
These easily accessible games make up nearly 80% of the country's online gaming industry, according to the E-Gaming Federation of India (EGF), an industry organisation that advocates for self-regulation of the booming sector.
While groups such as EGF say Mr Maqbool and others are "wagering" their money on online games, critics have a harsher word for it - gambling.
"Whatever the online game, ultimately they are wagering money against the happening or non-happening of an event which is not in our control. It all remains uncertain and by its nature is gambling," says Siddhartha Iyer, a Supreme Court lawyer who has been fighting to ban and block such websites.
Gambling is illegal in India. Some Indian states such as Odisha, Andhra Pradesh and Telangana have banned such games, citing mental health and addiction concerns. In others, such as Kerala and Karnataka, courts have overturned state bans.
A batch of petitions on the issue are pending in the country's Supreme Court.
Chief Minister of the southern state of Tamil Nadu MK Stalin has repeatedly demanded a ban on such games. The state government says it is committed to banning online gambling.
"We have gone to the Supreme Court to uphold the law enacted by the government. Let's hope it delivers a good verdict on our appeal," news agency PTI quoted state Law Minister S Regupathy as saying in the state assembly in March.
The All India Gaming Federation (AIGF) - which calls itself the apex body for online skill-gaming - says it is essential to differentiate between gambling and "online skill gaming", where the element of skill outweighs the element of chance.
Image source, Getty Images
Image caption,
The Indian online gaming sector is growing at nearly 30% annually, making it the fastest growing segment within the media and entertainment sector
AIGF's CEO Roland Landers explains the difference with a cricketing example.
"When you look at cricket, the toss in cricket is a game of chance. But the rest of the game is [based] entirely [on] skill," he says, adding that the gaming apps have disclaimers warning players about limiting their money usage.
The transactions made by participants, he argues, are equivalent to entry fees.
"Just because somebody is paying an entry fee for a form of entertainment [gaming] - which many have called one of the biggest pastimes of the world - it does not mean that it is tantamount to gambling," he says, adding that it would be counterproductive to ignore the games' tremendous business potential in a booming industry.
The Indian online gaming sector is growing at nearly 30% annually, making it the fastest growing segment within the media and entertainment sector. The industry also has over 400 million users. AIGF estimates the online gaming industry earns around $1bn annually and has the potential to create nearly 50,000 jobs by 2025.
The industry has also got a boost from massive advertising campaigns fronted by major cricketers.
"When I see my favourite cricketing star promoting a game I like, it makes me want to try it out," Mr Maqbool says.
"A game of skill has to be reserved for something of great athletic ability or great mental ability which requires years of training, practice and perseverance," Mr Iyer says.
AIGF says that a booming gaming industry requires game developers, IT support and massive customer care teams to deal with the rising number of subscribers. So instead of a complete ban, it says it is open to working with lawmakers to draft regulations.
Mr Landers proposes taxing the revenue earned from the industry which, he says, could aid economic recovery in a cash-strapped, post-pandemic world.
There is also a self-regulatory framework within which these games operate, but lawyers say that is not enough.
"Self-regulation is a very dangerous thing in an industry which essentially depends on exploiting its users, just like the alcohol industry depends on an alcoholic to buy more alcohol," Mr Iyer says.
Image source, Getty Images
Image caption,
Gaming regulators and watchdogs say the gaming industry in India needs tighter regulations
But making such laws in India is easier said than done.
The federal government is responsible for any laws related to the internet while gambling laws are governed by individual states. This means that India's parliament can step in only if all states consent to make a law related to online betting and gambling.
"The issue is that the gambling laws have to be enforced on the internet, now who's going to do it? Is the central government going to do it, is the state government going to do it? What's ended up happening is that no-one is doing it," Mr Iyer says.
While the government is yet to take a stand on the matter, the one thing the gaming federation and lawyers wanting a ban agree on is that this booming sector is in need of regulation to not just protect the business potential but also help add a layer of protection for players and prevent them from losing their savings.
Groups such as AIGF say the onus is on participants to protect themselves.
"If you are choosing this for entertainment or for any other reason, even from the perspective of maybe earning in return, I would say you have to make an informed decision," Mr Landers says.
Mr Maqbool says he is hopeful that these companies will be forced to become more accountable. Until then, he has a warning for others like him.
You may also be interested in
Media caption,
WATCH: Can video games teach history in school?