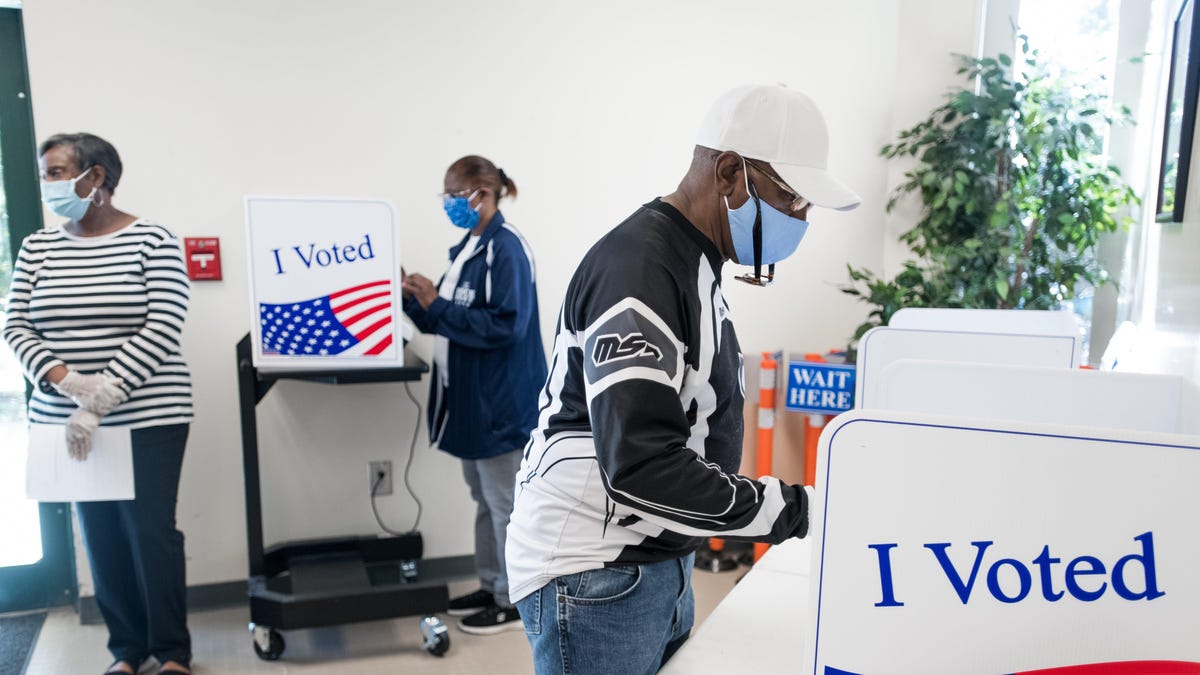 Photo: Sean Rayford/Getty Images (Getty Images)
Despite the upheaval of the last few presidential election cycles, the most common U.S. electoral format is inarguably simple... in theory: voters select the candidate they like the most, and whoever has the most votes at the end of the counting wins. ( Unless they don't .)
Despite its purported simplicity, problems obviously prevail, and critics continue to argue against many of our system's defining institutions, from voter ID laws, to campaign finance laws, to the Electoral College.
For these reasons and others, a new form of ranked-choice voting is becoming more popular in many U.S. cities, with the country's most populous—New York City—primed to adopt the format in its upcoming June 22 mayoral contest (early voting has already begun). Though it isn't new—it's well-established in cities like Oakland, California and St. Paul, Minnesota, and is also how Maine conducts all of its federal elections, with Alaska is soon to follow —ranked-choice voting is far different from the system many in the U.S. are accustomed to, but there's a lot to recommend it.
Video Player is loading.
Current Time  0:00
Duration  1:16
Remaining Time  - 1:16
And if deemed a success in New York, it could potentially gain even more credibility, and spread to more cities, states, and school boards—possibly your own.
What is ranked-choice voting?
On the surface, the premise is simple: In an election with multiple candidates, voters rank their preferred choices from favorite to least favorite. In an election with eight candidates, for example, a voter would, hypothetically, rank their preferences from first through eighth place.
G/O Media may get a commission
The winner (or winners, in a primary election) is selected through a process of reallocation, in which candidates who finish last in each of several subsequent rounds of vote tallying are gradually dropped from the race. Voters who ranked a dropped candidate first then have their votes reallocated to their second choice candidate, and so on, with the process of elimination continuing until one candidate remains. If one candidate wins a majority of first-choice ballots from the jump, then there's no need for second-choice votes to be counted.
This is a system that delights a certain breed of policy wonk, given the various probabilities that can emerge:
The theory behind the system is that it broadens the political spectrum by giving a more diverse range of candidates a fairer shot at winning office. As The New York Times explains:
The basic idea is to allow people both to select their favorite candidate and to indicate their preferences among the other candidates. That combination can allow the most broadly popular candidate to win the election, while also making clear the full spectrum of voters' views.
The number of candidates involved will vary based on the race and the municipality in question. There are technically 13 politicians gunning to become NYC's top official, though the city's rules only allow five of the most popular to appear on the ballot on June 22.
What are the advantages of ranked-choice voting?
From a strategic standpoint, ranked-choice seeks to eliminate the possibility of two similar candidates stealing votes from one another, and possibly handing a victory to a candidate whose policy positions are less popular overall. A classic example was the 2000 presidential election, in which the Green Party's Ralph Nader is credited with shaving off a sizable portion of would-be votes from Democrat Al Gore. George W. Bush won the race by a narrower margin, and the rest is history.
The way the common majority-winner system works can allow pretty unpopular candidates to win elections, even before you factor in the difficulties of the Electoral College. As the non-partisan voting rights organization FairVote notes , "[b]etween 1992 and 2019, 49 senators from 27 states have been elected with less than 50 percent support."
Still, FairVote's data indicates that such victories are the exception, rather than the rule. Synthesizing the organization's data, Vox concluded there is s usually a single, majority winner in most ranked-choice elections anyway, noting, "there have been 236 ranked-choice elections in the US with single winners and at least three candidates running." Ninety-four percent of the time, the candidate who wins the most first-place votes in the initial round of voting is the winner at the end.
Some critics argue that the complexity of the ranked-choice system—and the rare instances in which somewhat complicated math is necessary to tabulate the true winner in a tight contest—is not what this country needs, especially in a time of deep— if manufactured —skepticism about the legitimacy of our elections.
And while no system is perfect, it's true that the broader slate of candidates made viable through ranked choice voting could open the political field to a more diverse range of views—and, perhaps, lure apathetic voters back into the fold, and the voting booth.
This post was edited after publication to correct an error about Maine's use of ranked-choice in federal elections only.
Subscribe to our newsletter!
Upgrade your life, one email at a time.