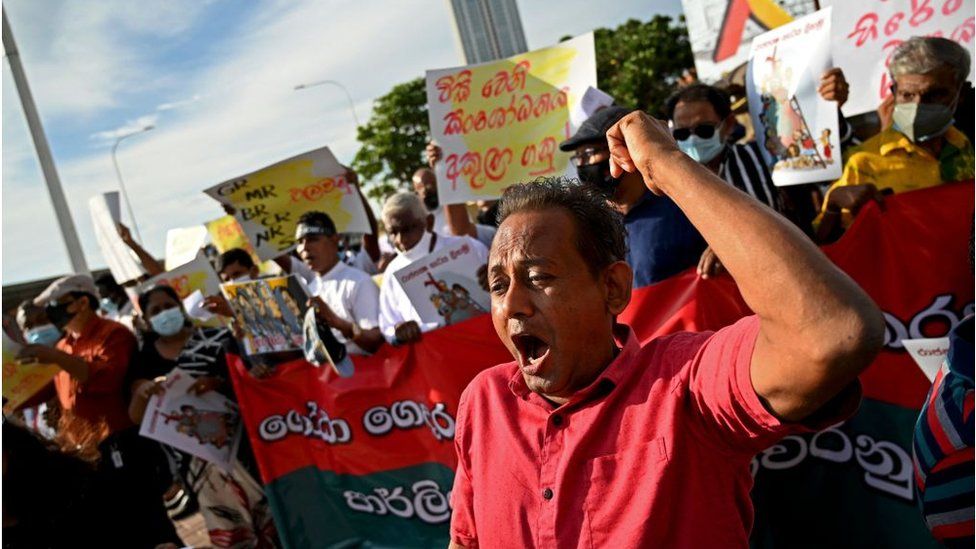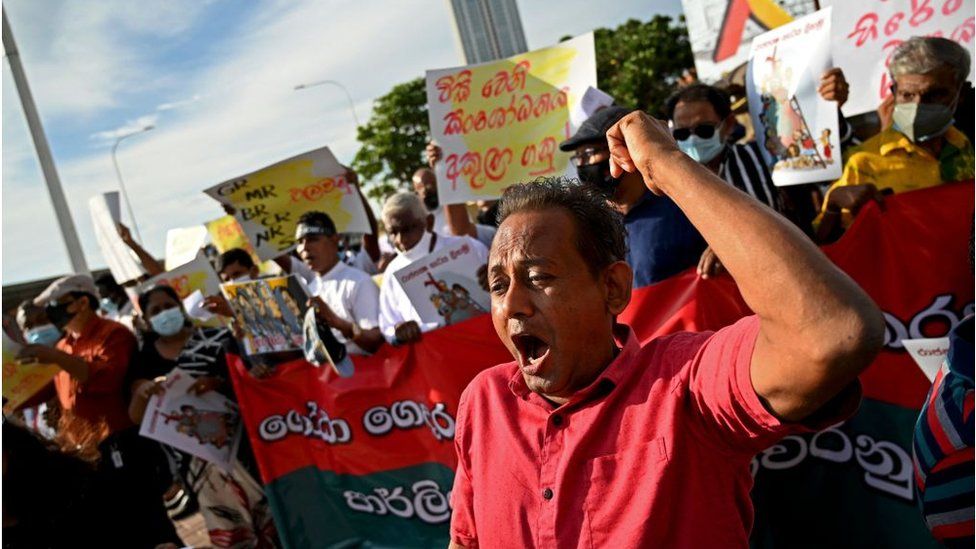 Image source, Getty Images
Image caption,
Sri Lankans took to the streets in early April demanding President Rajapaksa's resignation
In recent days, thousands of Sri Lankans have taken to the streets to demand the resignation of President Gotabaya Rajapaksa.
The island nation is facing its worst economic crisis since gaining independence from Britain in 1948 with food shortages, soaring prices and power cuts.
Sri Lanka's central bank has announced it will have to stop making payments on its huge foreign debt burden because it is so short of foreign currency.
The government is now desperate for a bailout from the International Monetary Fund.
Why is there an economic crisis in Sri Lanka?
Sri Lanka's problems come down to the fact that its foreign currency reserves have virtually run dry.
It means it cannot afford to pay for imports of staple foods and fuel, leading to acute shortages and very high prices.
The government blames the pandemic, which all but killed off Sri Lanka's tourist trade - one of the island's biggest foreign currency earners.
It also says tourists were frightened off by a series of deadly bomb attacks on churches three years ago.
However, many experts say economic mismanagement is to blame.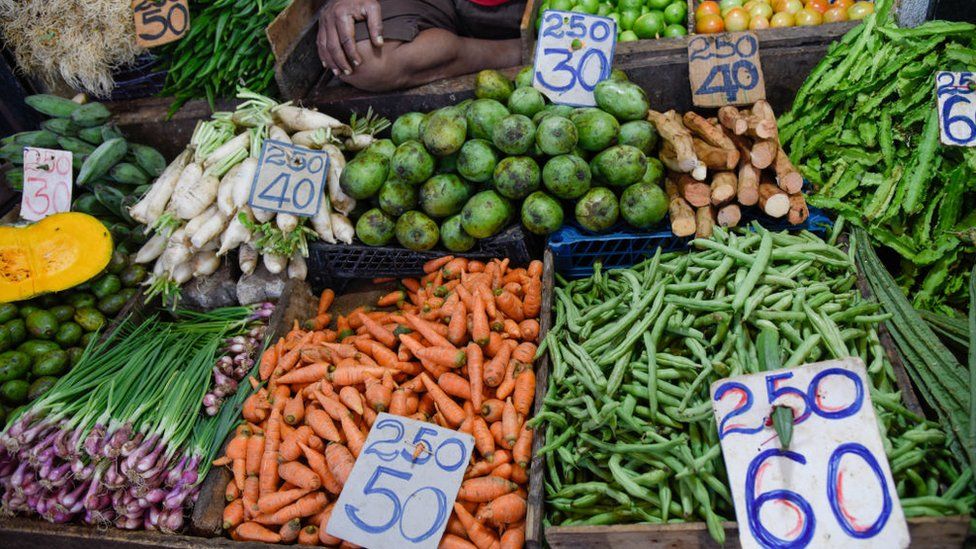 Image source, Getty Images
Image caption,
The cost of living has skyrocketed in Sri Lanka, with food costing up to 30% more than a year earlier
At the end of its 30-year civil war in 2009, Sri Lanka chose to focus more on its domestic markets instead of exporting to foreign ones. So income from exports remained low, while the bill for imports kept growing.
Nowadays, Sri Lanka imports $3bn (£2.3bn) more than it exports every year.
The government also racked up huge amounts of debt to fund what critics have called unnecessary infrastructure projects.
At the end of 2019, Sri Lanka had $7.6bn (£5.8bn) in foreign currency reserves. However, by March 2020 its reserves had dwindled to only $1.93bn (£1.5bn).
How did the government respond?
When he came to power in 2019, President Rajapaksa decided to cut taxes. This meant the government had less money to buy foreign currency on the international markets to increase its reserves.
When Sri Lanka's currency shortages became a really big problem in early 2021, the government tried to stop the outflow of foreign currency by banning all imports of chemical fertiliser, telling farmers to use organic fertilisers instead.
This led to widespread crop failures.
Sri Lanka had to supplement its food stocks from abroad, which made its foreign currency shortage even worse.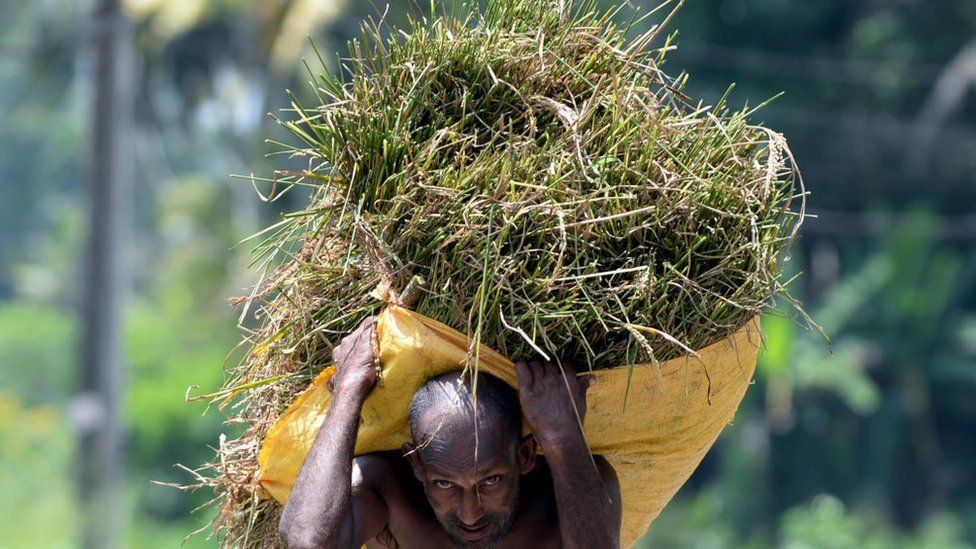 Image source, Getty Images
Image caption,
The switch from chemical to organic fertiliser resulted in widespread crop failure, exacerbating foreign currency shortages
Since then, the government has banned the import of a wide range of "non-essential" items - from cars to certain types of food and even shoes.
One way that countries can boost their exports is to cut the value of the currency, but the government refused to let the Sri Lankan rupee fall against other currencies.
It finally did so in March 2022, and the rupee fell more than 30% against the dollar.
How much foreign debt must Sri Lanka repay?
Sri Lanka's government has racked up $51bn (£39bn) in foreign debt.
This year, it will be required to pay $7bn (£5.4bn) to service these debts, with similar amounts for years to come.
However, Sri Lanka's central bank has announced it will make no further foreign currency debt repayments until it has secured a bail-out from the International Monetary Fund (IMF). It says it must save its remaining foreign currency to buy essential imports such as fuel.
The first test of this declaration not to service its loans will be whether the country meets a $1bn payment due in July.
What is the political situation?
Mass protests flared up in early April with people calling for President Rajapaksa to resign, which he has refused to do.
People are furious because the cost of living has become unaffordable. They are paying up to 30% more for food compared with a year earlier, which has led to some people having to cut down not only on what food they buy, but also the number of meals they eat every day.
Shortages of fuel have seen long lines at petrol stations, while the crisis has also hit public transport services.
"Earlier I used to get a bus in 15 minutes, now I have to wait one to two hours. Sometimes the bus stops midway with no fuel," one woman told the BBC.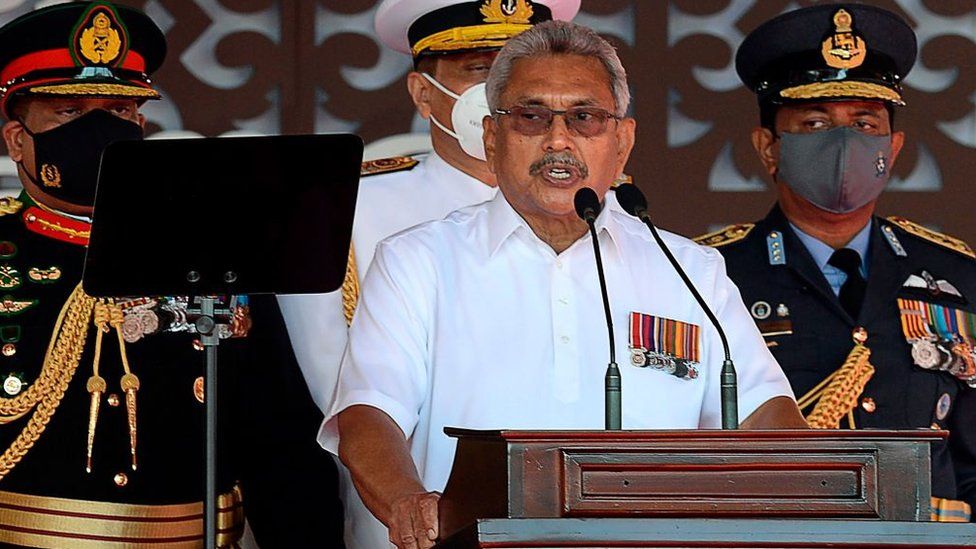 Image source, Getty Images
Image caption,
President Gotabaya Rajapaksa (middle) has so far refused to step down despite widespread protests and mass resignations from lawmakers
As demonstrations grew, the president imposed a curfew, a draconian emergency law and a ban on social media. However, when these failed to keep protesters off the streets, he withdrew the measures.
President Rajapaksa then sacked everyone in his cabinet apart from the prime minister, Mahinda Rajapaksa, who is his brother. He also sacked the governor of the central bank.
The president asked opposition MPs to help form a new government, but they have refused. Instead, more than 40 MPs aligned to the ruling coalition in parliament have left it.
What help can Sri Lanka get from abroad?
In March, Sri Lanka's government asked the International Monetary Fund (IMF) for a bailout, with talks due to start in mid to late April.
Sri Lanka is getting short term help through the crisis from India, which has has been supplying fuel to Sri Lanka on a $500m credit line.
China has agreed to bolster Sri Lanka's foreign currency reserves by swapping the Lankan rupee for its currency, the renminbi.
Sri Lanka has also taken on loans from countries including Japan and Bangladesh.
Media caption,
WATCH: Police in Sri Lanka fire tear gas and water cannon at protesters in Kandy