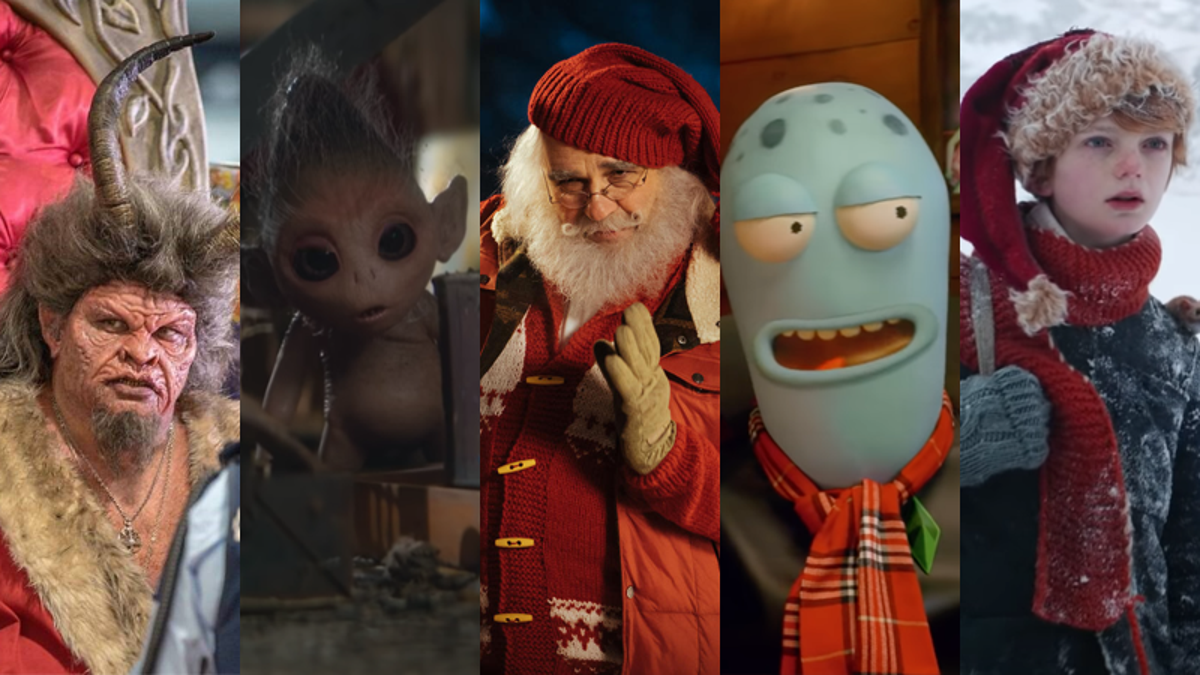 Image: The CW/Netflix/Hulu
If your favorite part of the holidays is parking your butt on your couch and watching TV, good news. You are not going to lack for holiday entertainment as 2021 draws to a close. Alien shoppers , festive archers , a Santa suit-clad Satan , and a movie called A Boy Named Christmas—which seems to be about a boy who is very much not named Christmas—are all coming to your TV (and a few to theaters, too). We've collected them so you can plan your holiday couch potato-ing accordingly.
2 / 17
Solar Opposites Holiday Special
Solar Opposites Holiday Special
Rick Morty co-creator Justin Roiland and Star Trek: Lower Decks creator Mike McMahan's sci-fi sitcom Solar Opposites will be receiving a holiday special. Somewhat on-brand for the show, we have no idea what the special is going to be about, but the announcement was made through a lavish live-action music video titled "What the Fuck Is Christmas?" as sung by the Earth-hating alien Korvo (voiced by Roiland). There's some incredible puppetry and some even better eye and mouth animation on a guy wearing a Korvo costume, but the video is age-restricted so you'll have to go to YouTube to watch it.
Where can I watch the Solar Opposites holiday special?
You won't have to wait long to watch the Solar Opposites holiday special—it premieres on November 22 on Hulu.
Black Friday
Bruce Campbell with a mustache. Need we say more? We do? Yeah, that makes sense. In Black Friday , a group of employees faces the horror of the biggest/worst shopping day of the year and opens their doors the minute Thanksgiving Day ends. But the horror grows exponentially when the frantic shoppers get infected by an alien parasite and become (more overtly) murderous. Even beyond Campbell, the film has a real horror-comedy, Sam Raimi-ish vibe we dig.
Where can I watch Black Friday?
Black Friday comes to theaters and on-demand on November 23 and also stars Devon Sawa, Michael Jai White, Ivana Baquero, and Ryan Lee.
Hawkeye
Aka A Very Avengers Christmas, the six-part Hawkeye limited series sees Clint Barton (Jeremy Renner) get in a spot of trouble after running into Kate Bishop (Hailee Steinfeld) while she's masquerading as Ronin, the brutal vigilante persona Clint took on while half the universe's population was snapped into oblivion. Despite Clint's bad attitude back then, Hawkeye looks like Marvel's most overtly comedic bit of entertainment since the Guardians of the Galaxy, as the Avenger takes Kate under his wing and trains her to become the next least-powerful superhero in the MCU.
Where can I watch Hawkeye?
Premiering November 24 on Disney+, Hawkeye also stars Florence Pugh, Vera Farmiga, and Linda Cardellini. It also features the debut of Alaqua Lopez as the deaf hero Echo, who's going to get her own streaming series sometime down the road.
Robin Robin
Aardman Animation , maker of Wallace Gromit, looks like it's trading clay for felt in Robin Robin , a sweet tale of an owlet who was raised by mice, and now really wants to become one. When she learns that "who-mans" have a special tree with a star on top that gives them everything they want on Christmas morning, she sees her chance to get her wish—and all she has to do is sneak into a house as quietly as a mouse. As you can see in the trailer, her owl-ness does present a challenge. On a side note, the official synopsis describes Robin's origin as beginning when "her egg fortuitously rolls into a rubbish dump." I thought you should know.
Where can I watch Robin Robin?
Robin Robin is coming to Netflix on November 24 and features the voices of Gillian Anderson as a cat more than happy to take out an owl and Loki's Richard E. Grant as the owlet's mouse patriarch.
8-Bit Christmas
How do you update the perennial holiday classic A Christmas Story? You trade the '50s for the late '80s, the coveted Red Ryder BB Gun for the then-brand-new Nintendo video game console, and let Neil Patrick Harris narrate the quest by his younger self (Winslow Fegley) to get his ultimate childhood Christmas gift, despite his disapproving parents (June Diane Raphael and Steve Zahn). The nostalgia-fueled 8-Bit Christmas looks pretty fun, but it also looks like it's trying to replicate A Christmas Story so hard that it could be too overwhelming to enjoy.
Where can I watch 8-Bit Christmas?
HBO Max releases 8-Bit Christmas on November 24. Also, Atari 2600 forever.
A Boy Called Christmas
I'm not usually one to correct Dame Maggie Smith, but she seems to have some seriously out-there ideas about the origin of Santa Claus , at least according to the Netflix movie A Boy Called Christmas. It apparently involved a talking mouse, a village of elves called Elfheim, maybe a witch, a troll, and, of course, a boy who journeys on an adventure into a snowy wasteland in hopes of finding happiness for his kingdom, except the kid's name is Nikolas instead of Christmas, so I have no idea to whom the title is referring.
Where can I watch A Boy Called Christmas?
On Netflix, November 24. The streamer clearly has high hopes for A Boy Called Christmas, as it's assembled quite the cast, including Smith, Toby Jones, Sally Hawkins, Kristen Wiig, Michiel Huisman, Zoe Colletti, Jim Broadbent, and Stephen Merchant as the voice of the mouse.
A Kiss Before Christmas
Image: Ian McCausland/Crown Media
While the Hallmark Channel produces several billion holiday movies per year, only a handful venture into the supernatural. Normally, it's the implication that Santa is real, but in A Kiss for Christmas, a man (Desperate Housewives' James Denton) somehow destroys his entire life by wishing he'd spent more time focused on his career instead of his wife (also Desperate Housewives' Teri Hatcher) and teenaged daughters. His wish comes true, his marriage never happened, his daughters are ripped from existence, and he's the CEO of his own real estate company. He quickly realizes this was a huge mistake, and he only has until Christmas to convince his extremely ex-wife they belong together if he wants his old life back.
Where can I watch A Kiss Before Christmas?
A Kiss Before Christmas premieres on the Hallmark Channel on November 24.
9 / 17
Trolls: Holiday in Harmony
Trolls: Holiday in Harmony
If you haven't seen Trolls or its sequel Trolls World Tour , this trailer for the franchise's first holiday special probably isn't going to convince you to check them out. That's a shame because they're actually pretty great, and there's no reason to suspect Holiday in Harmony won't be either. In the special, Queen Poppy (Anna Kendrick) organizes the first Trolls Kingdom Secret Holiday Gift Swap, but she and her beau Branch (Justin Timberlake) accidentally draw each other. Shenanigans presumably ensure, especially for Tiny Diamond (Kenan Thompson) as he tries to compose "a special holiday rap for his dad."
Where can I watch Trolls: Holiday in Harmony?
The special airs—yes, airs—on NBC on November 26. The entire movies' voice cast has returned for Holiday in Harmony, which includes Rachel Bloom, Ron Funches, Kunal Nayyar, Anderson Paak, Anthony Ramos, Ester Dean, Walt Dohrn, Da'Vine Joy Randolph, and Karan Soni.
10 / 17
Wellington Paranormal Christmas Special
Wellington Paranormal Christmas Special
Photo: : Stan Alley/New Zealand Documentary Board Ltd
If you like What We Do in the Shadows , you'd also best be watching the original movie's spin-off series Wellington Paranormal , in which two officers investigate the supernatural disturbances that abound in the New Zealand city. Here's Wikipedia 's synopsis of the holiday episode: "Minogue (Mike Minogue) and O'Leary (Karen O'Leary) respond to several supernatural incidents on Christmas Eve including Satan assuming the role of a mall Santa, meat disappearing into a vortex during a barbecue, a demon-possessed doll terrorizing a family, and a photocopying machine serving as a vortex. Following these adventures, Minogue and O'Leary present Sergeant Maaka (Maaka Phatu) with a soft toy as a Christmas present, which turns out to be possessed."
Where can I watch the Wellington Paranormal Christmas special?
The episode airs on the CW on November 27, but the regular episodes have also shown up the next day on HBO Max, so you will likely also be able to watch it there as well.
Elves
In Scandinavian folklore, there are creatures called nisser. They generally looked like garden gnomes—squat, with long white beards and short red caps. Nisser would protect a farmstead but be easily angered, which could result in anything from mild pranks to murder depending on how much they had been offended. So when you watch this trailer for the Netflix series Elves, it's probably good you know the original Danish title is Nisser so you can understand why a remote town has fenced them away in terror, and why that town gets so upset when a vacationing family rather foolishly lets them loose. Because these nisser are very, very offended.
Where can I watch Elves?
Elves premieres on Netflix on November 28, and stars Sonja Steen, Milo Toke Bendix Campanale, Ann Eleonora Jørgensen, Vivelill Søgaard Holm, Rasmus Hammerich, Peder Thomas Pedersen, Lila Nobel, and Lukas Løkken.
Beebo Saves Christmas
Image: The CW
It's such a perfect idea it's amazing no one thought of it sooner. Beebo, Legends of Tomorrow 's fuzzy blue mascot/vengeful god of destruction and cuddles, stars in his own, 2D animated special where he... uh... presumably saves Christmas. According to TV Line , which got the first look, "Sprinkles (Chris Kattan), an efficiency-obsessed elf, decides that Christmas would run better without Santa Claus (Ernie Hudson). Beebo (Ben Diskin) and his friends thus travel to the North Pole to, among other things, help discover what truly makes Christmas meaningful."
Where can I watch Beebo Saves Christmas?
Beebo Saves Christmas premieres on the CW on December 1, and also features the voices of Kimiko Glenn, Yvette Nicole Brown, Keith Ferguson (DuckTales, Elena of Avalor) as Fleabo (green), while the dulcet tones of Legends of Tomorrow's own Professor Stein, aka Victor Garber, as the narrator.
Silent Night
A family hosts the ultimate Christmas Day party for their family and friends. However, I mean "ultimate" in the sense of "final," because the next day everyone there (and maybe the country, or even the world?) is going to die the next morning, including the children. Silent Night  looks like a very, very dark comedy that, if this trailer is any indication, slowly loses the comedy as Armageddon approaches. So if your seasonal holiday depression hasn't quite kicked off yet, this movie may be for you.
Where can I watch Silent Night?
Silent Night will be available in theaters and on AMC+ on December 3. It stars Keira Knightley, Matthew Goode, Roman Griffin Davis, Annabelle Wallis, Lily-Rose Depp, Ṣọpé Dìrísù , Kirby Howell-Baptiste, and Lucy Punch.
David and the Elves
Image: Netflix
In this Polish film, David is a young boy who's moved to the big city and is deeply unhappy about it because his busy parents have "forgotten the meaning of Christmas." After meeting Albert the Elf, who left Santa's care to "figure out what Christmas is all about"—it seems like he should already have a handle on this, honestly—David runs away from home to visit his grandparents in the Tatra mountains, and the pair have some adventures along the way. I have no idea why Santa is posing like that in the picture above, but I'm digging his energy.
Where can I watch David and the Elves?
Premiering December 6 on Netflix, David and the Elves stars Jakub Zając, Cyprian Grabowski, Anna Smołowik, Monika Krzywkowska, Piotr Rogucki, Michał Czernecki, and Cezary Żak.
15 / 17
Peanuts: For Auld Lang Syne
Peanuts: For Auld Lang Syne
Screenshot: Peanuts Worldwide
The 1986 Peanuts special Happy New Year, Charlie Brown! failed to conquer the holiday even close to the level as A Charlie Brown Christmas did back in 1965. However, Snoopy and the gang will get another chance with For Auld Lang Syne, which is very weirdly the first-ever Peanuts special with neither "Charlie Brown" nor "Snoopy" in the title. The official synopsis does sound thoroughly true to the franchise, though: "In the special, after the Peanuts gang experience a disappointing Christmas because Grandma can't visit, Lucy resolves to throw herself the best New Year's Eve party ever, while Charlie Brown struggles to accomplish just one of his resolutions before the clock strikes twelve."
Where can I watch Peanuts: For Auld Lang Syne?
For Auld Lang Syne starts streaming on December 10 on Apple TV+. That's a screenshot from the old special, by the way—there's no official look at the new special yet.
Merry Little Batman
Image: Warner Bros.
Of all of these films and series and specials, Merry Little Batman is the one we're most interested in by far. The reason? "When a six-year-old Damian Wayne finds himself alone in Wayne Manor, he must transform into 'Little Batman' in order to defend his home and Gotham City from the crooks and super-villains intent on destroying Christmas." It's Bat-Home Alone starring Damian, and we are all here for it.
Where can I watch Merry Little Batman?
We know nothing else about Merry Little Batman, including the release date—the logo is all we've got. Whenever it does air, though, it'll be on Cartoon Network's Sunday evening "ACME Night" programming block.
Wondering where our RSS feed went? You can pick the new up one here .