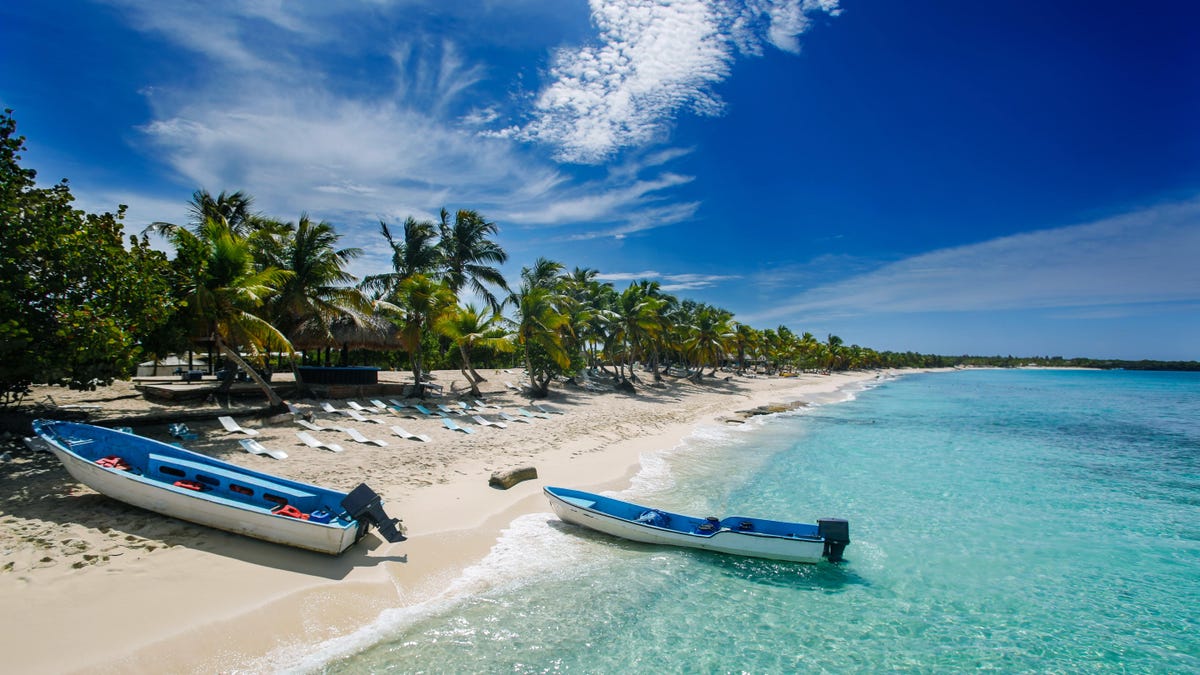 Photo: JC Roman (Shutterstock)
Not many people first think of the United States when it comes to planning a relaxing island getaway—the thought of an island vacation might instead conjure images of a tropical beach in the Caribbean or the south of France. That's fair; but there are several island destinations right here in the United States worth considering.
From Martha's Vineyard (a personal favorite) and the Golden Isles of Georgia to Michigan and Washington, there are plenty of options in our own backyards to access the island feel, beautiful beaches, and phenomenal food you crave.
Here is a list of islands you can visit—and leave your passport at home.
2 / 17
Mount Desert Island, Maine
Mount Desert Island, Maine
Photo: Trevor Fairbank (Shutterstock)
Maine is known for being an outdoorsy state, with moose safaris, rock climbing, and white water rafting. What most don't know is Maine's seaside—and its woodland adventures—continue on Mount Desert Island.
The majority of the island belongs to the Acadia national park, making it rather secluded and perfect for outdoor adventures. As Vogue reports , "There are some 18 mountains on the island—which hold the unique designation of being the highest seaside summits on the Atlantic coast north of Rio de Janeiro." The rocky getaway is about five hours north of Boston by car, but the small airline Cape Air also offers daily roundtrip flights.
Block Island, R. I.
Photo: Jane Damiani (Shutterstock)
Rhode Island is a beach destination for many New Englanders. The beaches are closer than most northeast seaside destinations, and Providence has a bustling nightlife scene. Block Island offers some of the same energy with far-reaching public beaches and family-friendly activities like movies on the beach and hiking trails. Also enjoy the " glass float ," an annual island-wide scavenger hunt for glass-blown orbs hidden across the island's beaches and trails. Block Island offers regular ferry and air travel service to and from its shores to travel to the seaside destination.
4 / 17
Two get-away spots in Massachusetts
Two get-away spots in Massachusetts
Photo: Sherry Lynn Photography (Shutterstock)
Martha's Vineyard
It takes about 45 minutes to drive from one end of Martha's Vineyard to the other, and the island is filled with long beaches and delicious lobster bisque and clam chowder. You can enjoy big crashing waves at South Beach in Katama, and beautiful white and red clay cliffs off the beaches of Wampanoag land at Aquinnah . Take a trip on the oldest platform carousel in the country, and win a prize for snagging the golden ring.
Martha's Vineyard is famously known as a presidential vacation destination . The Clintons, the Kennedys, and the Obamas have all vacationed in the vineyard. It is also historically known to welcome Black and brown travelers and is the home of the famous Inkwell beach . The only way on or off the island is by plane or ferry, both of which operate daily.
Nantucket
Nantucket offers an array of water sports, hiking trails, and great food. If you stay on the south shore , you can enjoy fun beaches with big waves for the family. Pocomo is where you'll find opportunities for kiting and other wind sports. Downtown , you'll find historic buildings, great food, and nightlife.
Ferry travel to Nantucket is run by the same steamship authority as Martha's Vineyard and also operates daily. Traveling to the small island by plane is also an option.
5 / 17
Explore more than 10 Islands off the Maryland coast
Explore more than 10 Islands off the Maryland coast
Photo: Scenic Corner (Shutterstock)
Maybe you've never taken a beachy getaway off the coast of Maryland, but there are a number of islands you could choose from. Solomon's Island gives you an old-town feel with museums and restaurants by the water. Smith Island is known for its food, including crab cakes and eight-layer Smith Island cakes . Boating and bird-watching are popular pastimes on St. George's Island and Deal Island . Some of Maryland's islands can be accessed by car, while others can only be reached by private boat or water taxi.
6 / 17
The Golden Isles of Georgia
The Golden Isles of Georgia
Photo: Brian Lasenby (Shutterstock)
Along the coast of Georgia, between Savannah and Jacksonville, Fla., sits a cluster of beautiful islands called the Golden Isles. The island is made up of several miles of marshland, but the beaches offer serene golden sunrises and sunsets and are perfect for collecting seashells. Driftwood Beach on Jekyll Island has iconic sunrises and unique sculpture-like driftwood. Or visit the set of Glory at Glory Beach. Beaches on Jekyll Island and St. Simons Islands are open to the public, while other islands ( Sea Island and Little St. Simons Island ) are private. You can enjoy nature trails and experience the natural wildlife on the island.
There is a rich history of Black culture in the Golden Isles, and they are part of the Gullah Geechee Cultural Heritage Corridor known for preserving the cultural heritage of the Black people who were enslaved on the isles. Learn about the history of the Georgia Sea Island Singers and visit some of the island's historic sites . You have your choice of transportation to the islands—whether by boat, train, car, or air, getting there is easy and accessible.
7 / 17
North Carolina's Outer Banks
North Carolina's Outer Banks
Photo: refrina (Shutterstock)
The Outer Banks in North Carolina offer a quaint getaway with great seafood, sprawling beaches, and fun outdoor activities. The Outer Banks is one of the United States' first official beach towns and home to the Wright Brothers' first successful flight . Aside from the island's iconic history, they offer a 62-point bucket list of activities to do on the island, ranging from hang-gliding to ghost tours.
You can drive to the Outer Banks , but car ferries and air travel are the faster options.
8 / 17
South Carolina's "Lowcountry living" and native wildlife
South Carolina's "Lowcountry living" and native wildlife
Photo: Phill Doherty (Shutterstock)
Hilton Head, South Carolina
Hilton Head Island is just off the coast of South Carolina and boasts it offers " Lowcountry living " at its best. The 12 miles of beaches are fun for families to enjoy water sports , such as jet skiing, paddle boarding, and guided kayaking tours. The island is a golfer's dream with 33 courses , many with seaside views. They also offer a variety of luxury and budget-friendly stays on the island. You'll enjoy southern cuisine and Lowcountry food with crab boils, shrimp, and other seaside fares.
By car, it's just a 20-minute drive from the southern-most tip of South Carolina, and there are two airports on the island .
Kiawah Island, South Carolina
While Hilton Head gives you the taste of Lowcountry, Kiawah immerses you in the nature of South Carolina. The salt marshes, dunes, ponds, and wildlife make Kiawah a paradise for nature lovers. Resorts on the island offer nature programs , including kayak tours through marshlands and hiking trails through the conservatory. Kiawah Island also offers golf resorts with spa services and a variety of dining options . Kiawah is a 33-mile drive from the Charleston airport and about a six-hour road trip for those traveling from the southeast.
9 / 17
Island-hop through Florida
Island-hop through Florida
Photo: Dennis Kartenkaemper (Shutterstock)
The Florida Keys
The Florida Keys are known for their great food, nightlife, and sunbathing beaches. The Keys are made up of dozens of small islands off the coast of Florida, the most popular being Key Largo , Islamorada , and (obviously) Key West . The Florida Keys bucket list features food and entertainment on Duval Street in Key West and dolphin experiences in Marathon and Baker's Cay Resort in Key Largo. Air travel is your best option for travel to the Keys (unless it's a port stop on your cruise vacation).
Amelia Island, Florida
Just off the northeast coast of Florida, Amelia Island touts itself as the "secret island"—a location focused on relaxation and romance. The island's wellness activities include nature walks, biking, and yoga. Amelia is connected to Florida's mainland by bridge, so travel by car is relatively easy. Arriving by air is also an option.
Sanibel and Captiva Islands, Florida
Sanibel and Captiva are sister islands connected to each other (and mainland Florida) via bridge. Both islands are known for their restaurants and oceanside stays , while the beaches are popular for avid seashell collectors. The Chamber of Commerce notes , "So many people go shelling when visiting the islands; the bent-at-the-waist stance one takes when bending over to retrieve a seashell has been dubbed the 'Sanibel Stoop.'"
Aside from walking along the beaches, the island's activities range from beach fishing to eco-tours and cruises . Depending on where you're coming from, you can arrive by plane ride to Fort Myers Airport—the islands are a short 20-mile drive from there.
Mackinac Island, Mich.
Photo: Michael G Smith (Shutterstock)
You'll be transported to another time when visiting Mackinac Island off the lake coast of Michigan. This island gives a fun small-town feel by the water, with horse-drawn buggies and old historic fortes. There are no cars on the island , so biking along the lakeside shore is a very popular and scenic way to travel around.
Use Mackinac's sample itinerary to plan a full island vacation. The itinerary comes complete with what to pack (light sweaters and layers for the cool evenings), and a four-day plan includes horse-drawn carriage tours and biking around the island. Dining spans the gamut of pubs, bars, Mexican restaurants, and pizzerias. Activities include walking tours, fudge making , fishing , " sip and sail" cruises , and more .
Although the island doesn't allow motor vehicles, you can get there by car to a certain point. Then it's all horseback, buggies, or bike-riding from there on out. There are also ferries and airlines to get you on island.
11 / 17
Washington's San Juan Islands
Washington's San Juan Islands
Photo: Tom Middleton (Shutterstock)
When you hear the name San Juan, your first thought is likely the Caribbean island of Puerto Rico. However, in this case, we're referring to the small islands off the northwest coast of Washington state.
The San Juan Islands' Visitors Bureau describes the "172 named islands and reefs in San Juan County." The most popular islands are The Orcas Island , where you relax in nature by the water or take an orca whale watching tour ; the small beach town vibe and farms in Lopez Island ; and the scenic maritime destination of San Juan Island , where you can hike, bike , and visit the iconic lighthouses on the shoreline.
Depending on the kind of travel experience you'd like to have, you can get to the San Juan Islands by train, plane, shuttle, or ferry .
Santa Catalina Island
Photo: bonandbon (Shutterstock)
For the west coast adventurer, the Island of Catalina is a natural playground . There are ropes courses, zip lines, and canyon excursions—or take a powerboat to " Two Harbors " and relax on the beach under the palm trees. There are also undersea sub expeditions and sea-life safaris that take you on a fascinating dive into the Catalina wildlife.
You can get to Catalina by high-speed ferry leaving from southern California or by helicopter from Long Beach and San Pedro.
The U.S. Virgin Islands
Photo: Malachi Jacobs (Shutterstock)
The U.S. Virgin Islands may be the tropical getaway you dream of all winter long. The islands of St. John, St. Thomas, and St. Croix are popular destinations for American citizens. The biggest of the islands, St. Croix , is known for its massive coral reef and deep-sea diving access at " The Wall " in Cane Bay. St. Thomas (home to the capital of the U.S. Virgin Island, Charlotte Amalie) is known for its seaside activities, such as snorkeling and parasailing , and I personally recommend the underwater sea trek at coral world . The other islands offer stunning beaches like Trunk Bay at St. John , as well as fun nightlife.
You can get to the U.S. Virgin Islands by plane from most major airports. Make sure you check the travel regulations before heading out.
Puerto Rico
Photo: ESB Professional (Shutterstock)
As a commonwealth of the United States, U.S. citizens can travel to and from Puerto Rico without a passport. The island is known for its beautiful beaches , rich cultural heritage, and the famous coquí frog. You can take part in the great food and nightlife in San Juan , experience the historic city of Old San Juan , and visit the Bacardi Rum factory .
If you're feeling adventurous, you can also travel to the other side of the island to Aguadilla and enjoy water sports like diving and surfing. Another popular destination for travelers is the turquoise beaches of Vieques and Culebra , two islands just off the shores of Puerto Rico where you can kayak in the bioluminescent waters at night .
You can travel to Puerto Rico by plane—or book a cruise with San Juan as one of your port cities.
Guam
Photo: J nel (Shutterstock)
In the western Pacific sits the U.S. territory of Guam. Native to the Chamorro people, Guam has a rich ancient history as one of the first places people settled almost 4,000 years ago . Places like the Haputo seek to preserve the history and culture after years of colonization. The island is the largest of the Mariana and Micronesian islands. The island's top ten things to do include diving in the crystal clear waters to view the rich coral reefs, immersing yourself in the history and culture of Guam , and enjoying the unique shops and restaurants.
It is a bit of a trek by air to get there—plan for about a 14-hour flight , depending on where you're coming from—but it's worth the trip.
Hawaii
Photo: Shane Myers Photography (Shutterstock)
Last but never least: Hawaii. The U.S. Pacific Island is home to unique beaches and unbelievable excursions. You can catch waves on the surf, experience black sand beaches , and walk on volcanoes all in one trip to Hawaii. Enjoy some of the best seafood and sushi, as well as ramen and East Asian cuisine. Hawaii has several islands, including Oahu, Kauai, Molokai, Lanai, Maui, and the Island of Hawaii (also known as The Big Island).
Each island has its specialties. Kauai is known as the " Garden Island " for its mountainsides and luscious rainforests. Lanai is the smallest of the islands, known for its rugged back roads and land excursions , as well as its luxury resorts. The most popular island is Oahu , home of Hawaii's capital, Honolulu, with exciting city life and surf at the same time.
Hawaii is accessible by flight from the mainland states. In addition to flying, ferries can take you from island to island .